«Through minutiae explorations into the very microlevels of sound anatomy, through vocal investigations into, as well as the activation of, spatial premises and through the discovery of timbral qualities of objects, Song Circus masters an unusual audial vocabulary that expands the idea of what music can be.»
Vi er stolte av albumet vårt!
Lytt her: http://phonofile.link/anatomy-of-sound
Du anbefales herved å kjøpe den fysiske utgivelsen. Har du hjemmekino med surroundlyd, kan du ta plass i et fascinerende tredimensjonelt lydlandskap. Albumet er nemlig utgitt i både åtte, fire og to lydkanaler, innspilt, produsent og utgitt av Lindberg Lyd /2L og nord-europas udiskutable ener på surroundlyd, Morten Lindberg.
«An unforgettable experience. Rich and strange. As audience I experienced being in a terrain, from a time when listening to the environment was essential for survival. To be reminded of this, not only intellectually but physically and spatially, is rare. I let myself run and seduce and enjoy a contemporary art experience, and was awakened by an ancient vigilance. Strange and exceptional»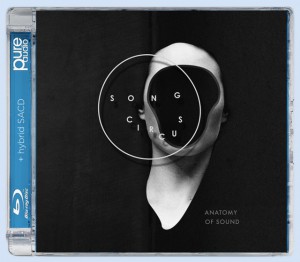 Anatomy of Sound er innspilt i Uranienborg Kirke, av Lindberg Lyd i 9.0 Auro-3D.
Disc 1
Hybrid SACD
MCH 5.0 DSD
Stereo DSD
Disc 2
Pure Audio Blu-ray
DTS HD MA 192kHz/24 bit 5.0
Auro-3D 96kHz/24 bit 9.0
LPCM 192kHz/24 bit STEREO
mShuttle: stereo FLAC 96kHz + MP3
Utgivelsen er støttet av Norsk Kulturråd, Fond for utøvende kunstnere og Fond for lyd og bilde.